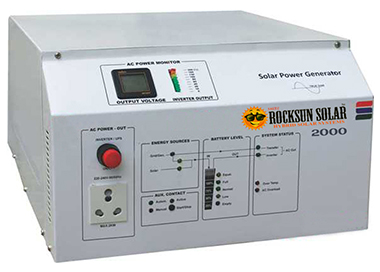 Efficient
Pure Sine wave with a voltage regulation of 90 % and at a frequency of 50 Hz . Peak generator efficiency of 87 % . Idle consumption of the inverter is very low.

Simple
Built-in Solar charge controller allows you to connect solar modules directly to the generator. Plug and play system ensures that system is easy to install. System monitoring is provided by easy to interpret indications which allows for easymanagement and maintenance of the system. Alarm for overload and low voltage conditions alerts the personnel to switch off the loads.

Intelligent Battery Management 'Low Voltage Disconnect' avoids deep discharging of batteries which reduces their cycle times.
Safety Galvanic isolation between the DC input side and AC load side.